First of all, thank you guys so much for contributing 100,000 views to this page! I'm so amazed. It's been a great experience to share my costuming photos over the years. I'm very grateful to all of you who've watched the progress and read the journals I've written throughout this time. You guys are awesome!
So far, 2014 has been a year of action and moving ahead. I started the year with a new job that I thought would be a great step forward, but learned quickly that it wasn't the right fit. I submitted an application to a second company, got to know the staff in two refreshingly fun interviews, and was hired! I'll be working from home from now on in a position where I musicians get gigs and plan events. The people at the company have been absolutely wonderful so far and I hope to excel and grow with them. I hope to help a lot of budding artists out there snag the events they need to launch a long and successful career. Even if I'm simply aiding artists and keeping my art to something I do for the pure enjoyment of it, it'll be all part of making dreams come true for everyone. This is what I've been wanting to do professionally for years! I'll work hard to make this a long-standing business relationship!
This past February, Ginger and I have added a new addition to our household, an adorable 3-legged cat named Salem. We went to our local SPCA shelter and fell in love with our little buddy when he hopped over to us and couldn't stop meowing lovingly for our attention. He loved the rubs we gave him and even reached out with his tiny paw to hold our hands through his cage. When we went into the next room to continue looking around, he meowed after us, wanting us to come back to him.
He came to the shelter with a badly fractured hind leg. The leg couldn't be saved, but the vets saved his life. After seeing how much he connected with us from the first moment and hearing his story of survival, we took him in right away and have been inseparable since. He sprints so quickly and is so playful that you would never even know that he's missing a leg. He's living proof that you can go through incredible odds and hardships in life and bounce back stronger than ever.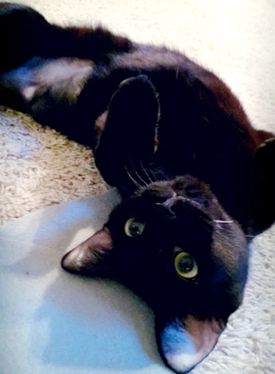 Thank you guys again! I appreciate seeing your names and comments over the years. Since my focus has shifted to making sure my life, home, family, and career are in order, the costuming has slowed down, but will continue. It's something I enjoy doing for the process of making something beautiful and as a tribute to those shows, books, and games I love the most. I haven't been posting as frequently and will continue to update after long gaps of focusing on my priorities first, but I'm blown away that you all are continuously supporting the new costumes and photos when I make and take them. I do have some upcoming costume plans for the Summer, so sit tight while I get to work!

Also, I have Instagram now! If you feel like looking at delicious food, games, cats, books, workout logs, sewing progress, and my face, follow away!
instagram.com/micheladeelondon